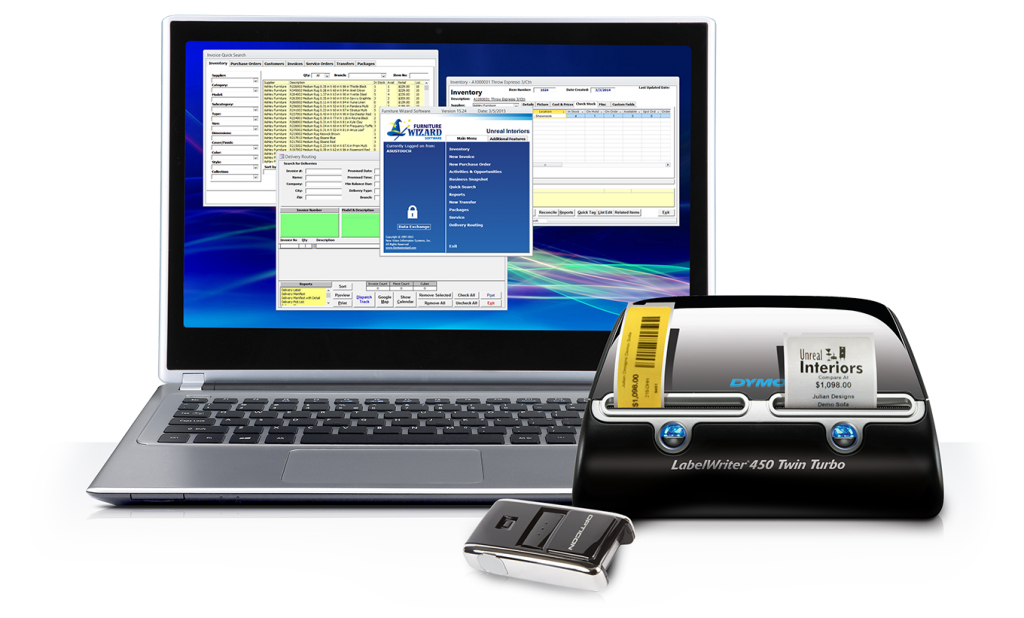 We make it simple to do a complete Inventory with barcode scanners, inventory count sheets and easy verification to keep you in track during the process
Customized Price Tags and Labels
Customized price tags and labels are easily printed with Furniture Wizard. All tags contain a barcode and where appropriate, your store's logo is also included. Multiple item or group tags as well as mattress tags are also instantly printed.
Dymo Printers
Double your label capacity for even greater labeling and mailing efficiency. Holds two label rolls at once for maximum efficiency – print 60+ label layouts at speeds up to 71 labels per minute*, without switching label rolls. PLUS prints DYMO Stamps® postage.** *4-line address label **Internet connection required. DYMO Stamps® service provided by Endicia, a licensed USPS® PC Postage™ provider. Account terms are subject to change. For current information visit www.dymo.com/en-US
Need more labels for your Dymo printer?
Check out our whole selection of labels at LabelWizard.com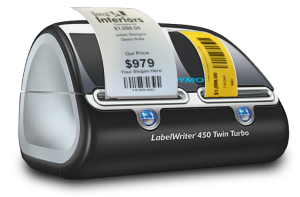 Mini-Scanner
The Mini-Scanner is the perfect complement to your desktop Furniture Wizard system – it allows you to put your invoice information in your pocket. And it's inexpensive enough that you could get one for your entire staff. With it's many uses, you and you're staff will wonder how you ever got along without it!
Point of Sale: So now when your customer points to an item, you point, too. Then simply plug it back into your computer and an invoice is ready for your customer.
Inventory Transfers: Need to transfer some inventory? Just point and click at the items that are being transferred, and choose which branch it's coming from and going to.
Re-Ordering Merchandise: Are there more items that need to be ordered? Click on them, and you can have a PO made for you to order them.
Re-Tagging Your Floor: Or maybe you decide its time to have a sale. Point and click at the items you want, and they will be put on sale for you.
Inventory: That time of year again? Able to hold over 1000 items, the mini-scanner can quickly and easily scan your floor or warehouse, one section at a time.
With all these options, the Mini-Scanner is the ideal complement to your furniture wizard system. For instructions on how to configure the miniscanner click here.
Reporting
Furniture Wizard contains awesome reports! There are hundreds to choose from and they're all easy to read! With password security, you control who has access to this information. Plus, now you can ask more complex questions like:
Who purchased over $2,000 during the last 6 months?
What's in stock now that hasn't sold so far this year?
What do I need to order?
What's getting delivered today?
If you have a customer who walks in requesting specific items, you can easily and quickly print out a catalog with photos of your inventory! You can instantly send statements or print an aging report, send out thank you letters or even print mailing labels!
Purchase Orders
Furniture Wizard has a powerful inventory management system.
The Inventory Form includes:
A complete item description.
A stored database of existing inventory items.
Instant calculations of profit, margin, and markup.
An easy interface to scan and store photos of each item.
A stock-status display that includes nine data points for each location.
A complete description for the optional web site display.
Complete reconciliation with external bar-code scanning devices.
Easy access to reports, discount sales management, and tagging.
Security
Security will allow you to set permissions for different areas of Furniture Wizard, thereby restricting access to sensitive areas of the program. This can allow you to give your employees the ability to create invoices, or purchase orders, or any other functions, which might be related to their duties, while keeping them away from other more sensitive areas that they have no reason to have access to.
You can also restrict users to only being able to create PO and invoices for their respective branches, removing the possibility of incorrectly creating these transactions. By assigning different users, you can give each one a different level of access, and assign them each a password. This also will allow you to easily change that users permission levels (such as in the case of promotion, increased responsibilities, or transfers to other locations) without having to re-create user accounts.
Delivery Routing
Furniture Wizard now has an optional Delivery Routing Module. The module has several powerful features. Your delivery staff can use the module to:
Quickly view invoices with pending deliveries
with a view of the calendar.
Easily schedule deliveries.
Generate maps to the delivery locations.